Beginning our Digital Lives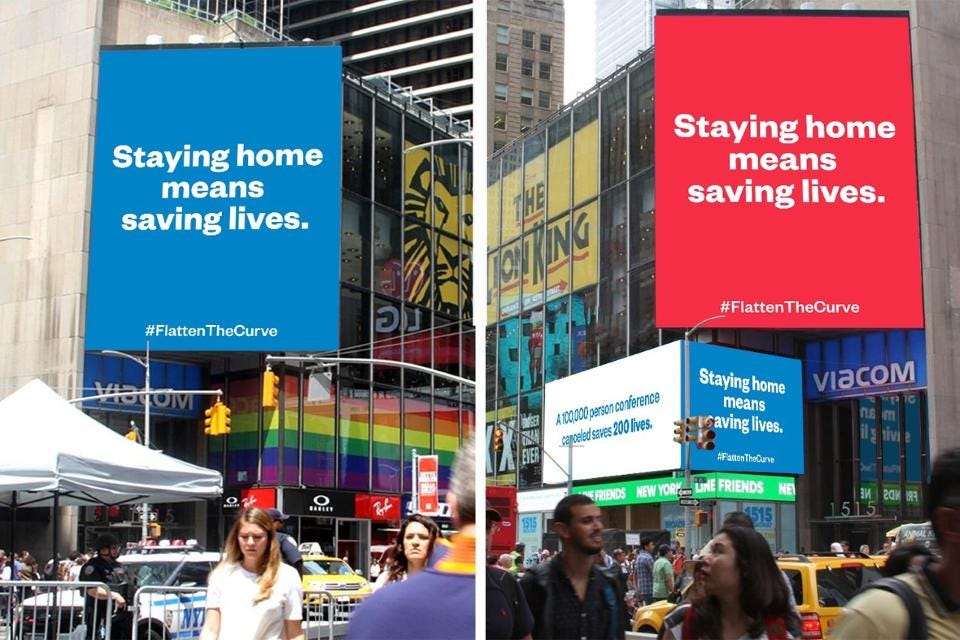 The Coronavirus has been accelerating new behaviours of how we all live our lives. I'm sitting here at home trying to predict and comprehend how remote work and remote interactions are going to increase, because shifting our lives from physical to digital is now becoming a necessity, rather than a choice. Here is some of the latest news outlining these trends in sports, entertainment, and more:
Physical to Digital Events:
The world's largest live events companies are all suffering as pretty much all major music festivals and events are being postponed. Live Nation, the world's biggest live entertainment and ticketing company, has seen a 50% decrease in their share price over the last month, a roughy $8 billion loss in market cap. Other companies like Eventbrite and AEG face similar challenges. SXSW and Coachella have been cancelled, while the Glastonbury music festival is still scheduled to go ahead in June. 
Some recent events were not been cancelled. Welsh band Stereophonics played a concert last Saturday the 14th in a packed stadium in Cardiff. Many Chinese fans commented on social media, in shock at the fact that such a concert would be hosted in the middle of this crisis. That same night, singer Lewis Capaldi played to a crowd of 11,000 people in Aberdeen and Morrissey played to a large crowd in London. Everyone from Piers Morgan to international fans in France and Italy took to social media to comment that these live events are irresponsible.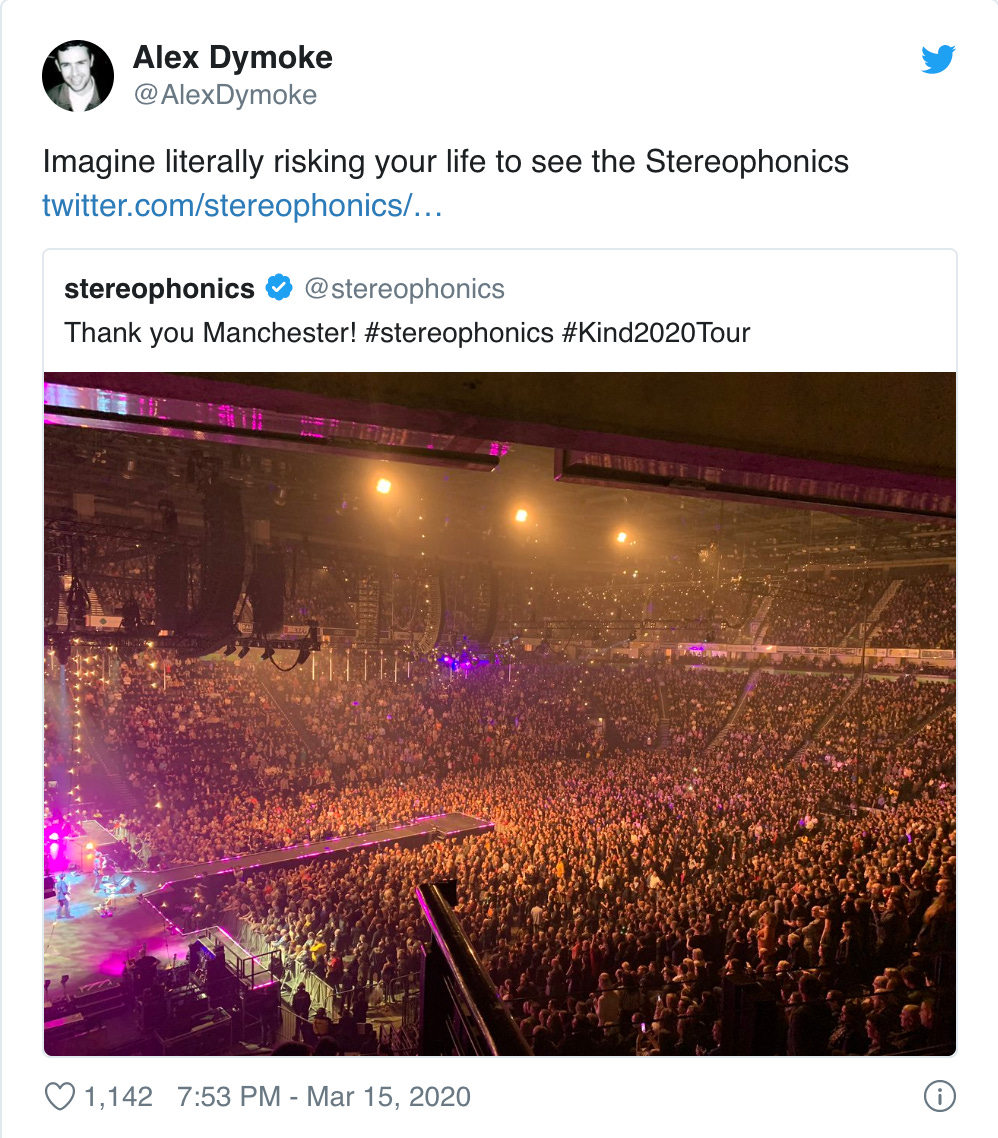 In contrast, a metal band from Pittsburgh called Code Orange decided to cancel their March 14th concert and instead livestream the concert on Twitch to 13,000 concurrent viewers. They then repurposed the live broadcast to create a high quality video to upload on Youtube. The Dropkick Murphys usually play a St. Patrick's Day concert in Boston every year but are now broadcasting a free livestream around the world instead.
Last year, we saw the beginnings of what virtual concerts could look like. In February 2019, DJ Marshmello played a live concert in the video game Fortnite that 10.7 million people around the world virtually attended. Even earlier in 2018, another famous DJ Solomun filmed a virtual 'music video' of himself on the video game Grand Theft Auto: Online.
Chris Martin, lead singer of Coldplay, hosted a mini-concert from his home on Instagram Live yesterday and today John Legend is live streaming a concert from his home. We're going to see more of this.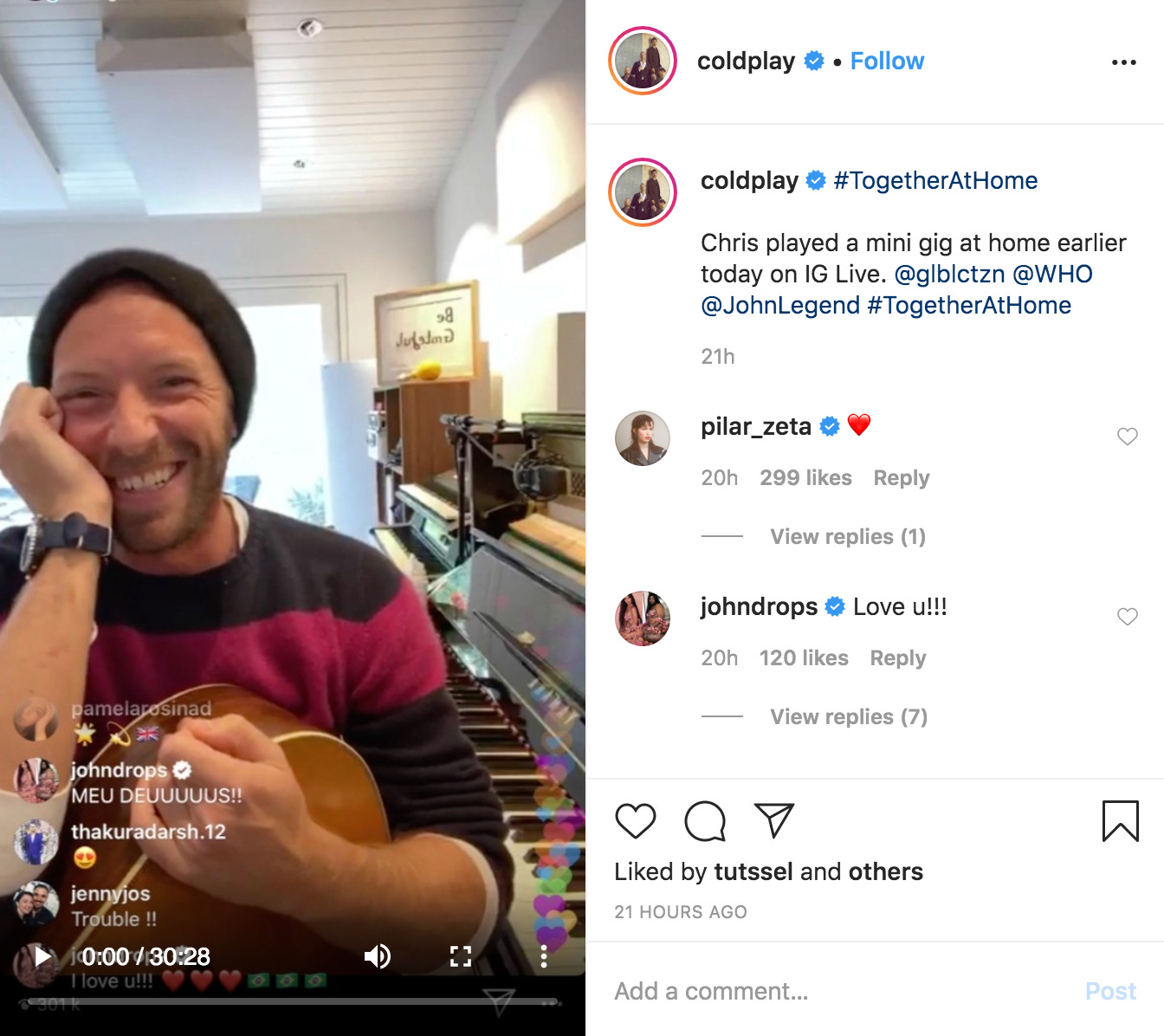 Another type of event that is a big part of many people's lives is their regular religious service. Whether watching services from your synagogue, mosque or church online, this practice is growing. If you live in California, but your family is in the Philippines, you could now start watching the same church livestream your relatives are watching.
---
Physical to Digital Sports: 
The NBA, MLB, NHL, MLS, NASCAR, PGA, Formula One, and NCAA have all been suspended. All major football leagues and competitions (Euro 2020, Champions League, Premier League, La Liga, Bundesliga, Ligue 1, Champions League) have postponed their matches. The Indian government has instructed the Indian Premier League (IPL) to halt all cricket matches and the trend is growing around the world.
As of last week, the UFC was pretty much the only sports organisation to defiantly commit to putting on their next events on March 28 and April 11. An event was hosted this past Saturday in Brazil with fans not allowed to physically attend the stadium. Amidst all the criticism, it was announced yesterday that UFC owner Dana White has finally decided to postpone future UFC events.
The Cheltenham Festival of horse racing went ahead last week in the UK, on the ominous date Friday the 13th and against a lot of urging to cancel the event. 
Currently the Tokyo Olympics is still scheduled to continue, as per the recent guidance from Japanese Prime Minister Shinzo Abe. With so many things moving so quickly, it's unclear whether this decision will be reversed over the coming days. 
All of these events impacts a complex set of sports stakeholders and this is really the biggest black swan event in the modern sports and entertainment. No one can really predict what's going to happen next, especially the second order effects.
The CBA (Chinese Basketball Association) had to deal with the coronavirus earlier than Western sports leagues. Yao Ming, former NBA player and current president of the CBA, sent a memo to all teams telling them to prepare to potentially resume games as early as April 2. A great Sports Illustrated article outlines the story of American CBA player Allerik Freedman who stayed in China during the initial coronavirus lockdown. His fiancée and daughter flew home to California on January 28 to escape the virus but the article ends with a quote from Freedman describing how he is worried that things are going to get worse in America than in China. 
On the other hand, the Phoenix Suns and Dallas Mavericks NBA teams have taken the novel approach of playing digital basketball. The two teams were scheduled to play each other, but had to postpone their game due to the coronavirus. Each team hastily put together a representative and they played against each other in the video game NBA 2K20, which they live streamed on Twitch. 12,500 fans tuned in to see the Mavericks beat the Suns 150 - 136.
More professional teams and athletes are turning to videogames in this time of corona. Formula One driver Lando Norris, Real Madrid goalkeeper Thibaut Courtois, and Formula E driver Stoffel Vandoorne raced against each other and other Youtube/E-Sports stars in a virtual Australian Grand Prix this last Sunday, which they streamed on Youtube and Twitch. Professional cyclists like 2018 Tour de France winner Geraint Thomas are also hosting their own virtual races. 
Italian telecom companies are already struggling with a 70% increase in internet traffic over the last two weeks, mainly attributed to kids playing video games like Fortnite and Call of Duty.
---
Physical to Digital Film: 
It's estimated that the film industry is going to lose $20 billion dollars from the coronavirus. Most production on major television shows and films has come to a halt, and most cinemas in Europe and the US are shutting down.  
As I outlined in an article last week, Chinese companies have been dealing with film cancellations by releasing them on digital platforms rather than physical cinemas. And now the Western film industry is starting to do the same.
Universal Pictures announced yesterday that they will make movies available on digital OTT/VOD platforms at the same time or even before their planned theatrical releases. Examples include Trolls World Tour, The Invisible Man, The Hunt, and Emma. 
This is a really big deal because a significant portion of the film industry depends on the relationship between the production companies like Universal and the movie theaters. There is usually a 90 day window between when you release a film in theaters vs. when it's available for purchase online or in-store. So the latest decision will likely undermine the business model of movie theaters and cause significant outrage. Universal ran a test in 2011 allowing people to rent the film Tower Heist for $60 but abandoned the plans after movie theaters threatened a boycott. 
Again, you saw this happen in China months ago when Chinese cinema chains wrote a public letter denouncing Huanxi Media Group's decision to release the film Lost in Russia on tech platform Bytedance. Either way, this decision has been made for the benefit of the fans over the benefit of the movie theater chains. 
Considering Disney owns both content and distribution through their Disney+ platform, they are in a much stronger position than most other entertainment companies. Of course, Netflix has their own originals and Amazon Prime also creates their own series but the value of Disney's IP (including Marvel, Pixar, and Star Wars) gives them some of the world's most monetisable content. Until NBCUniversal releases their streaming service Peacock, which is scheduled to debut this summer, Disney has a huge headstart. Last Friday, Disney announced that they would be releasing Frozen 2 on Disney+, three months earlier than the originally planned release date.
---
Physical to Digital Donations: 
Utah Jazz center Rudy Gobert was the first NBA player to test positive for the coronavirus and since then, he has announced a $500,000 donation to arena workers and social services groups in Utah, Oklahoma City, and his home country of France. NBA player Steph Curry and his wife Ayesha Curry are helping provide 1 million meals to students in Oakland who can't attend school because of coronavirus-related closures. Other NBA players like Giannis Antetokounmpo, Zion Williamson, and Blake Griffin and team owners like Mark Cuban have all made generous financial pledges to support people affected by the coronavirus. 
Apart from traditional donations, an emergent behaviour is appearing on social media where people are sending donations over Twitter. Two days ago, the author Shea Serrano posted this message on Twitter encouraging people who are struggling financially to send him their Cash App details. Then he started sending them money directly.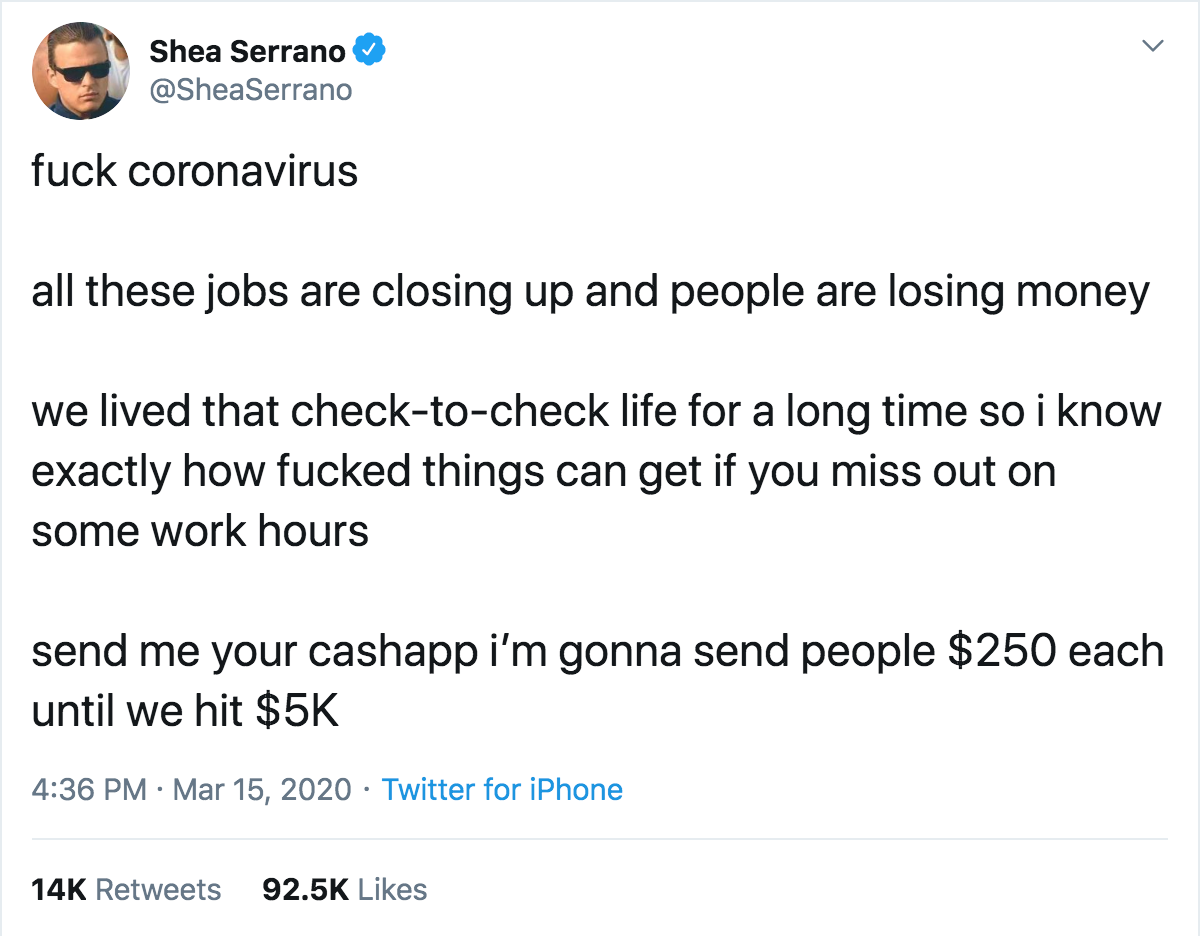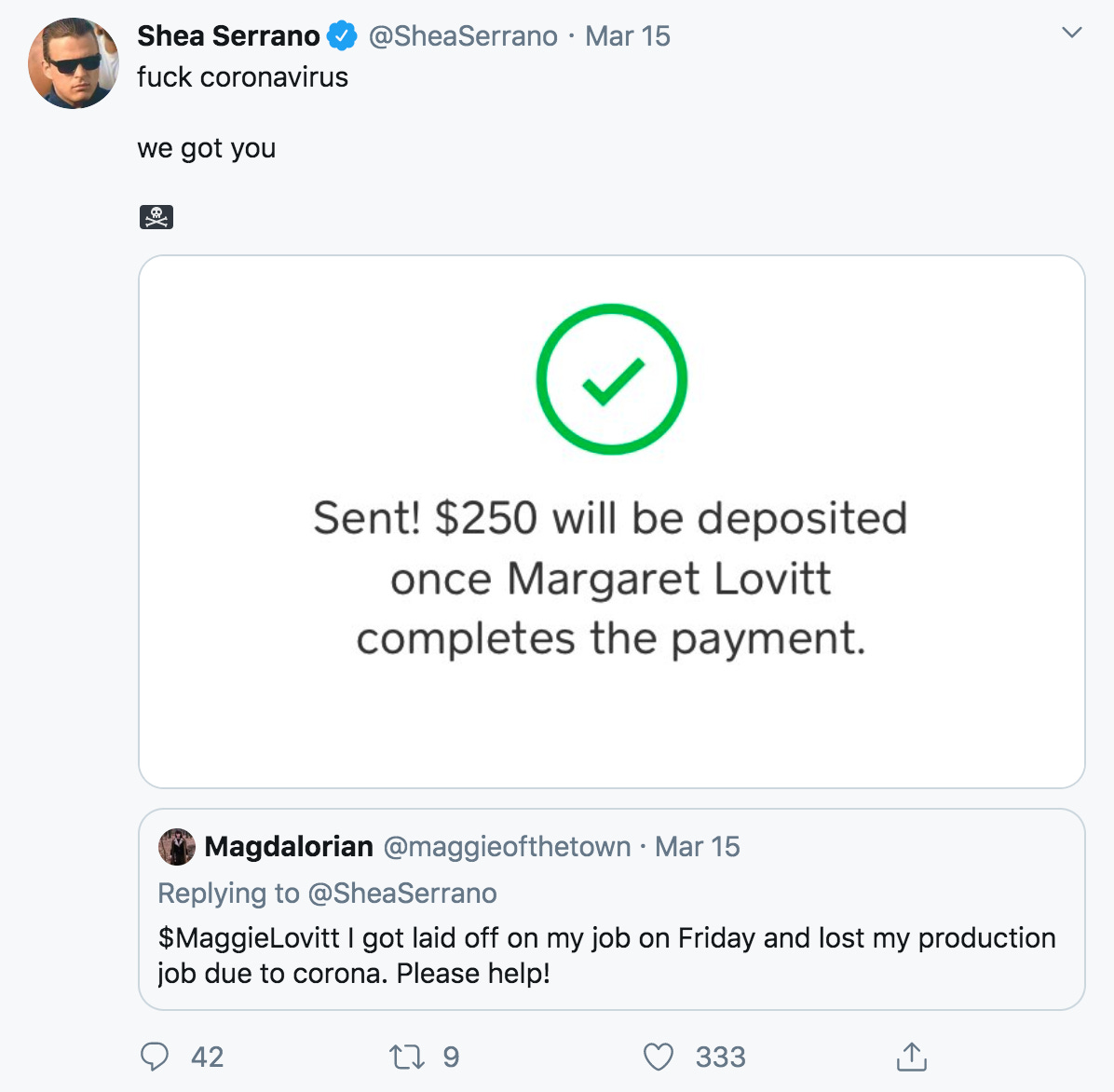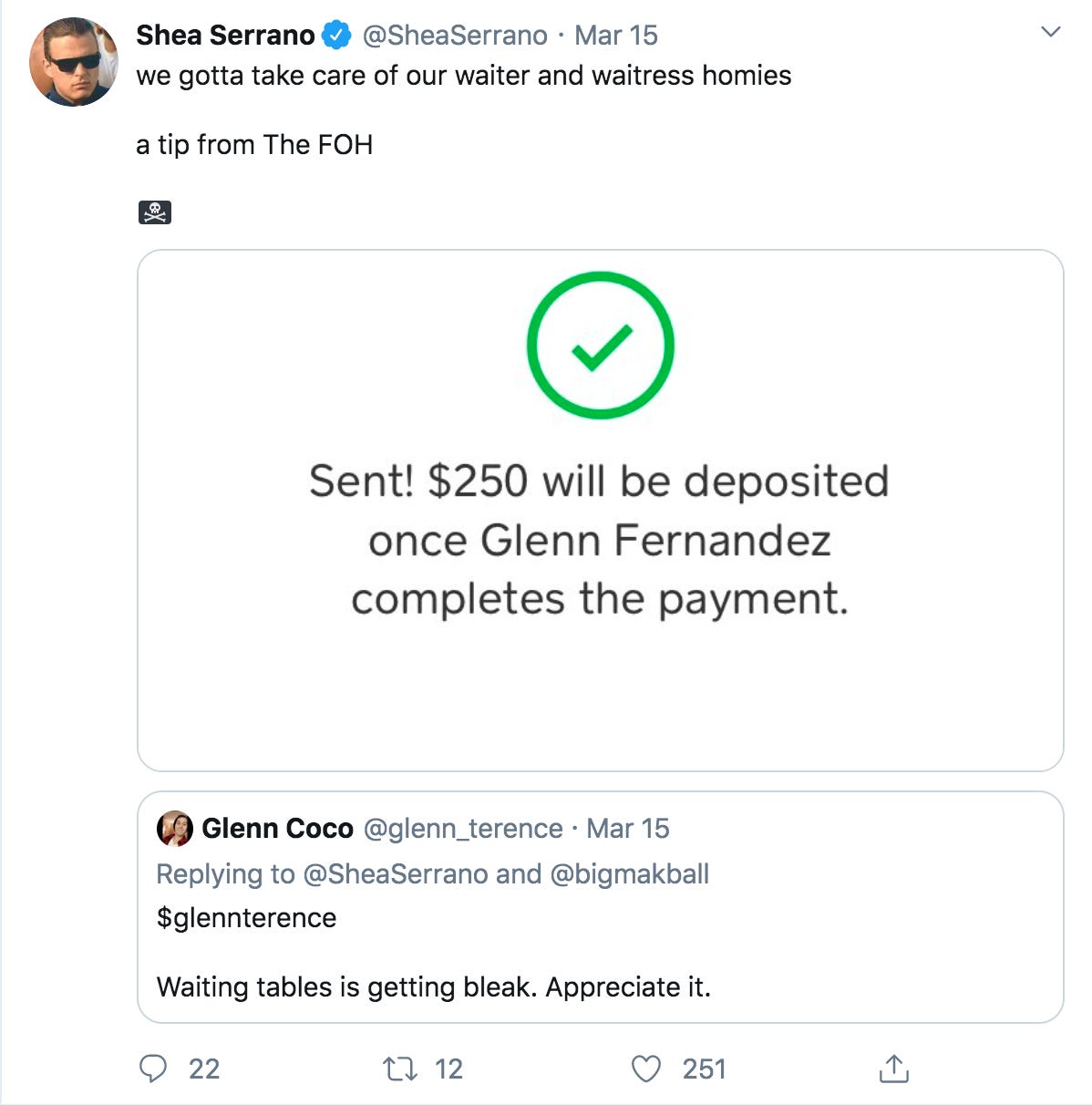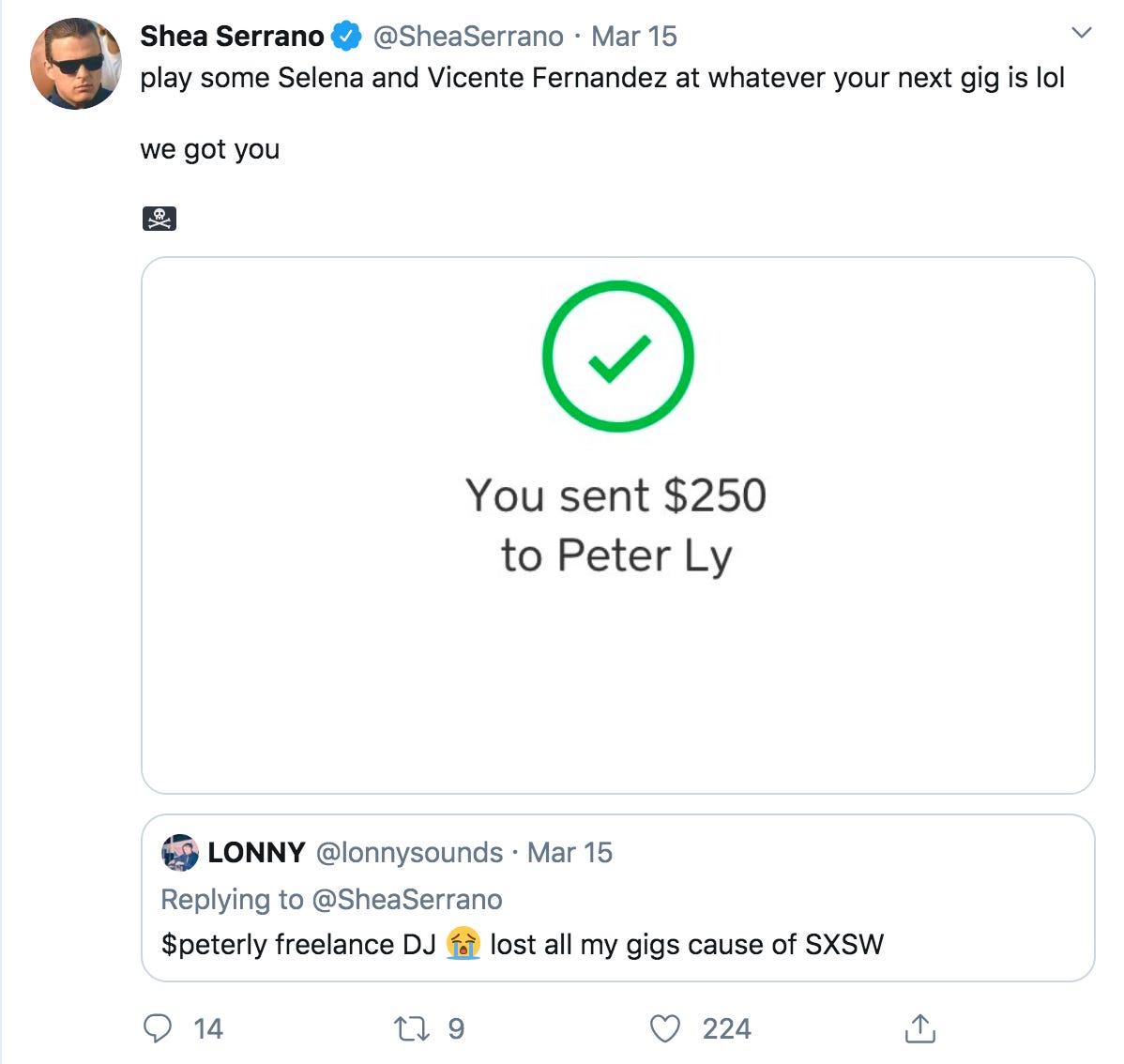 By Sunday, he had donated $10,000 to individuals who replied to his tweet outlining their situation and how much money they needed. A second order effect came after other people who started reading Serrano's tweets. Other people started replying and sending their own money to help people!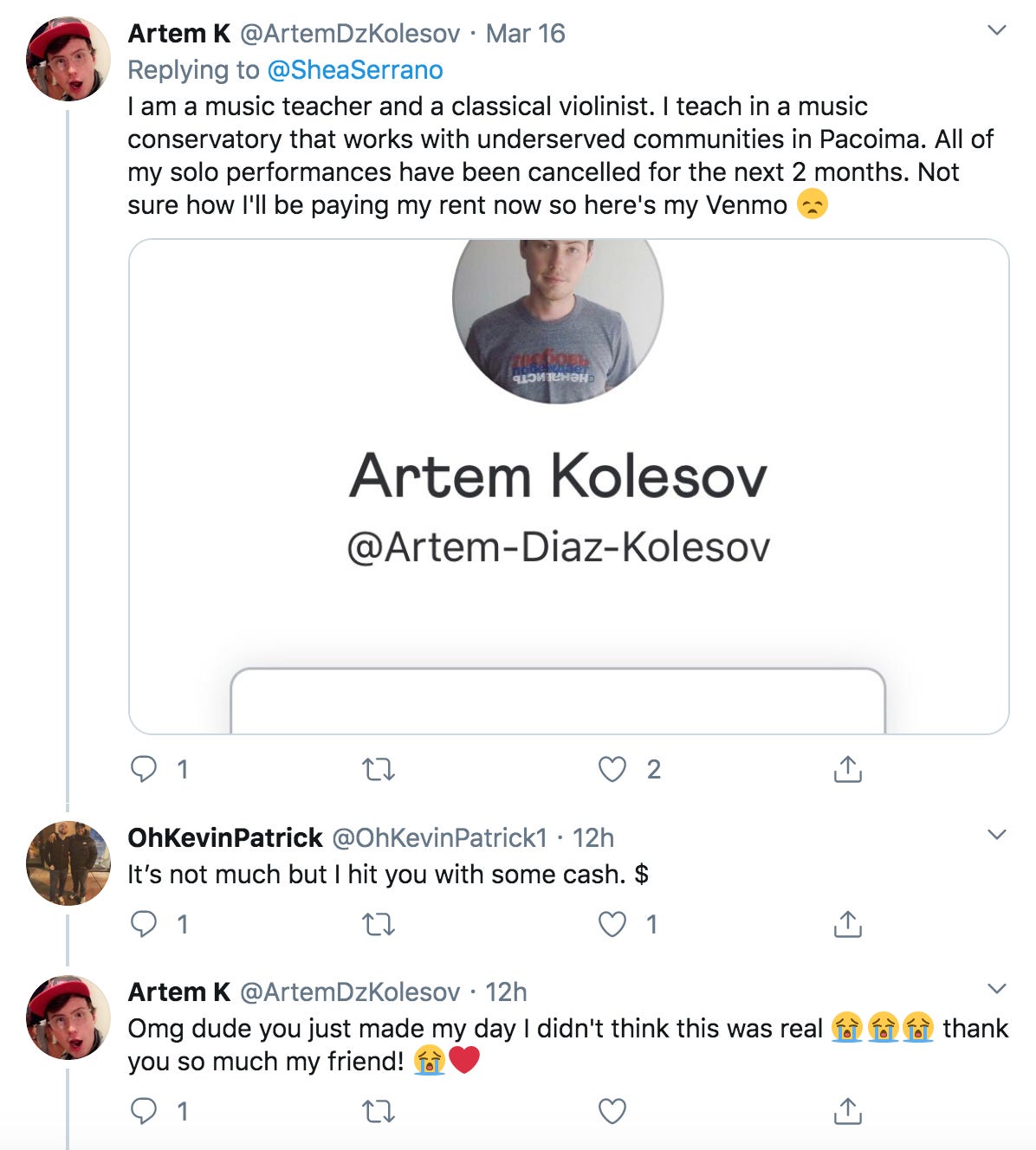 ---
Physical to Digital Education:
At this point, the vast majority of schools from grade school to university have either cancelled classes or switched to completely virtual classrooms. My own high school and university have announced such measures and a lot of my friends are personally experiencing this.
A friend of mine getting his masters (MDE) at the Harvard School of Design and Engineering shared a list of activities his classmates put together to help maintain a positive culture when all of their classes have turned virtual. Activities include having a ton of virtual events through video conferencing: 'dinner parties,' 'April Fools pranks,' 'speed dating,' 'flash mobs,' 'team selfies.' Students are proactively adapting to a school life that involves digital socialising when meeting up in person is not possible.
China has around 200 million elementary and high school students. Every high school student still has to take the Gaokao, the intensely competitive entry exam that determines your place at university.
When physical classes were suspended, most Chinese students had to use the app Ding Talk for remote learning, which quickly became one of the most downloaded apps in the country. However, disgruntled students got together and started aggressively spamming the App Store with one star reviews for Ding Talk, hoping that that would cause the app to be removed from the App Store. Ding Talk publicly replied with a tongue-in-cheek apology to students for ruining what could have been a nice holiday from school work.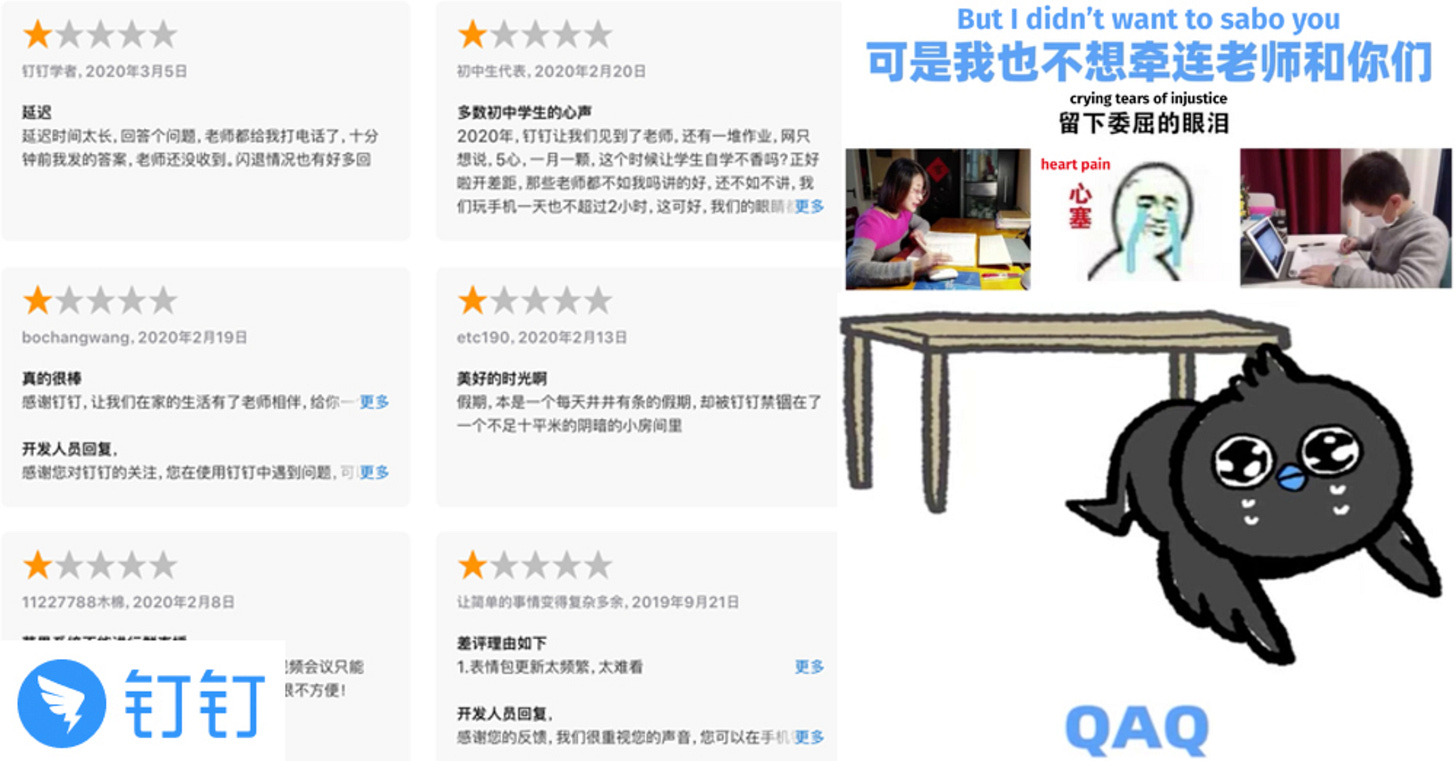 That's another form of student adaptation to digital education, though I bet the teachers didn't see that one coming.
Several startups that straddle the world of education and online events have launched recently. Run the World is an interesting startup that has developed the incredibly timely solution of creating a product for hosting live online events. Other examples of similar startups include Crowdcast, Konf, and Hopin. Each of these can be used to host any type of online events like professional seminars, casual meetups, or educational conferences.
Singularity University, a Silicon Valley technology education community/consultancy/incubator is currently hosting a free three-day virtual conference discussing the coronavirus on crowdcast. When I dialled in earlier, I saw around 22,000 people from around the world watching the livestream. (Full disclosure - I used to work at Singularity University in 2013).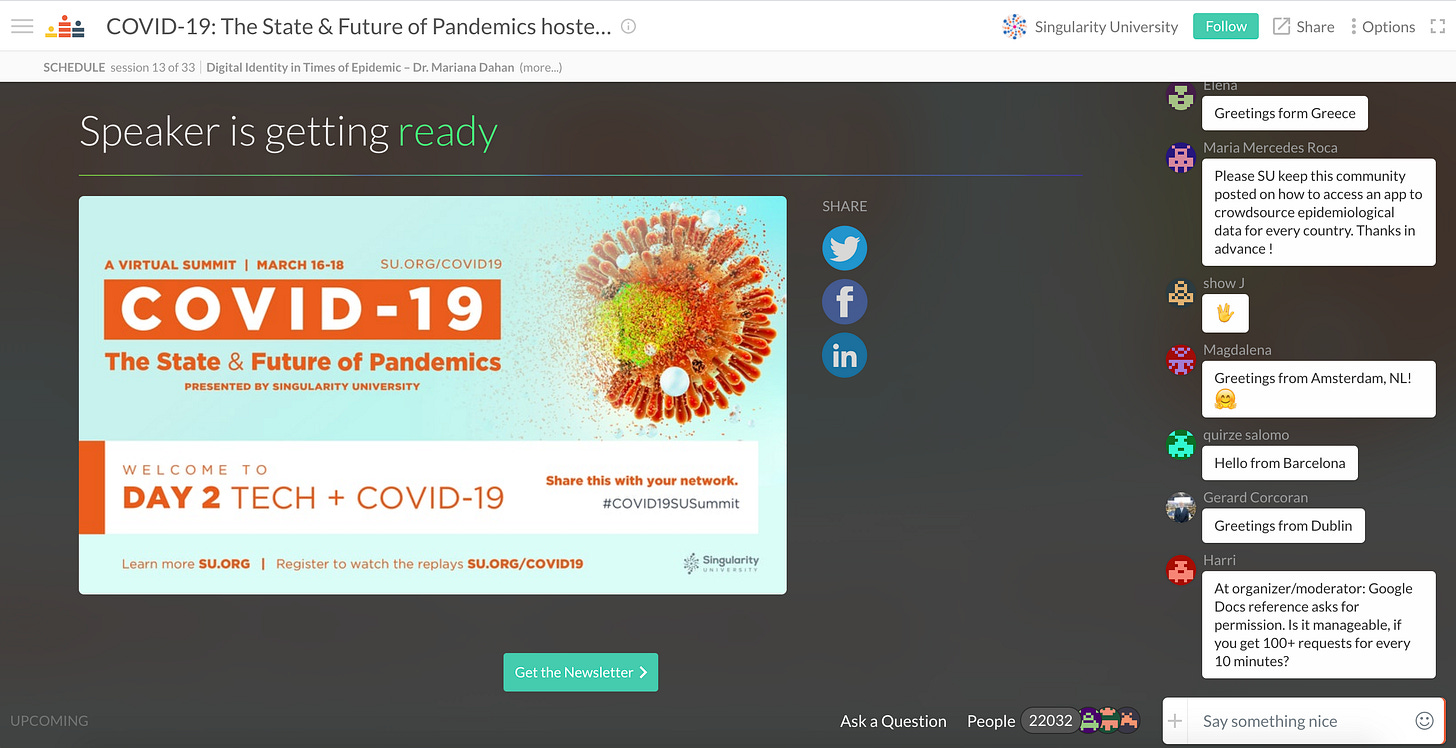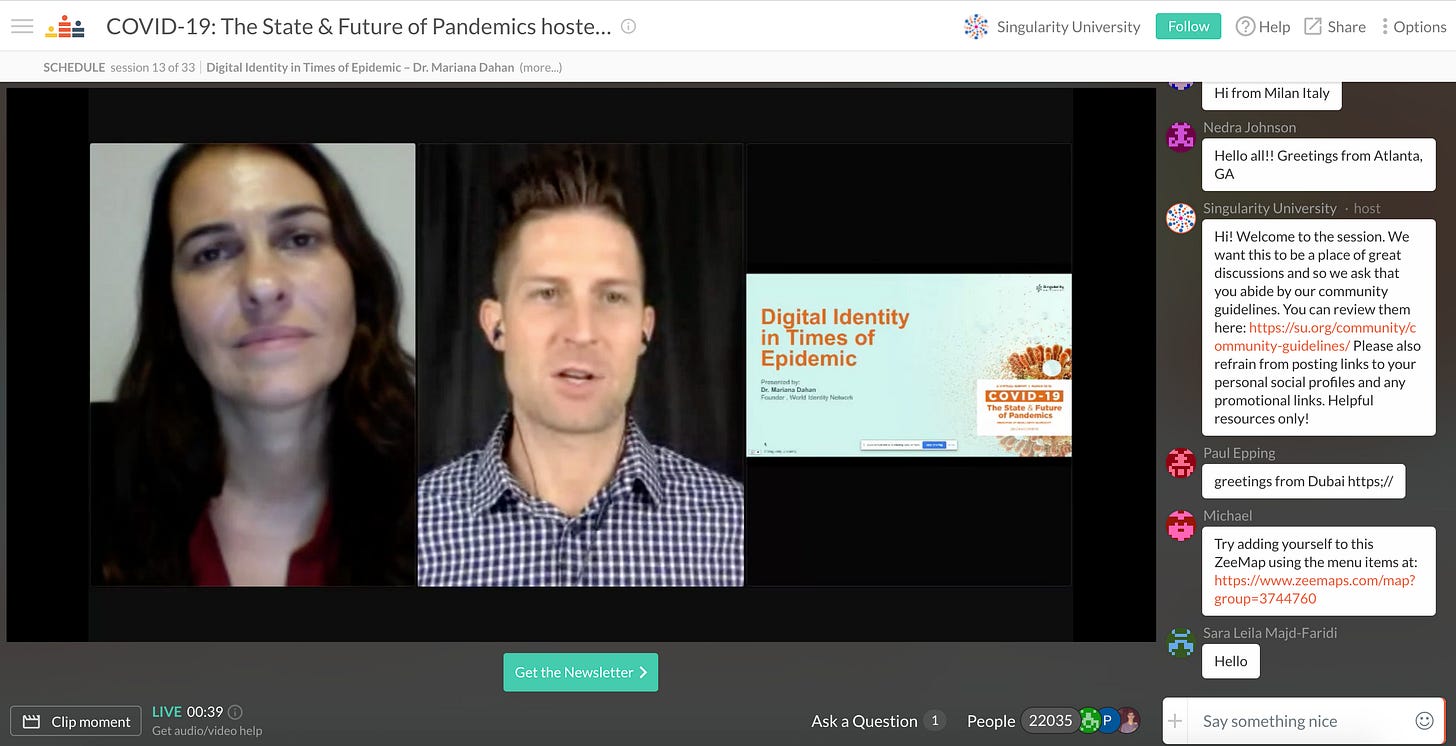 At a more grassroots level, I've started to see the widespread use of public google docs to crowdsource and share information. These function as kind of a more dynamic version of a wiki.
Music industry writer Cherie Hu has compiled a comprehensive document outlining resources on virtual events and livestreaming for the music industry. This includes a broad overview of the topic, a list of tools for musicians and artists, and a calendar of these virtual events. 

Morning Brew, a media company that puts out daily newsletters geared towards millennial professionals has created a guide to best practices in working remotely.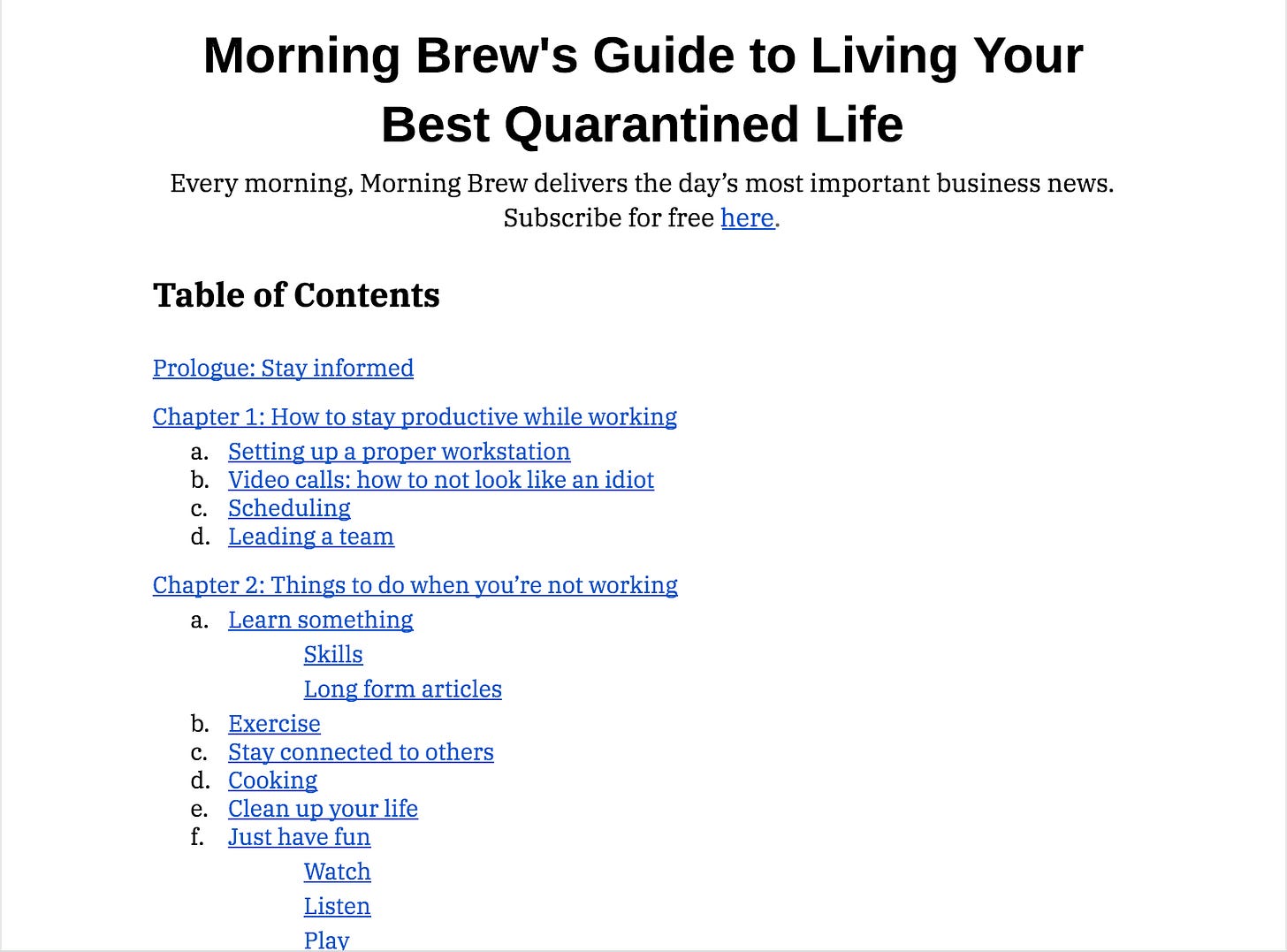 Newspeak House, a network of political technologists in London, has tapped into their community to build an online Coronavirus Tech Handbook.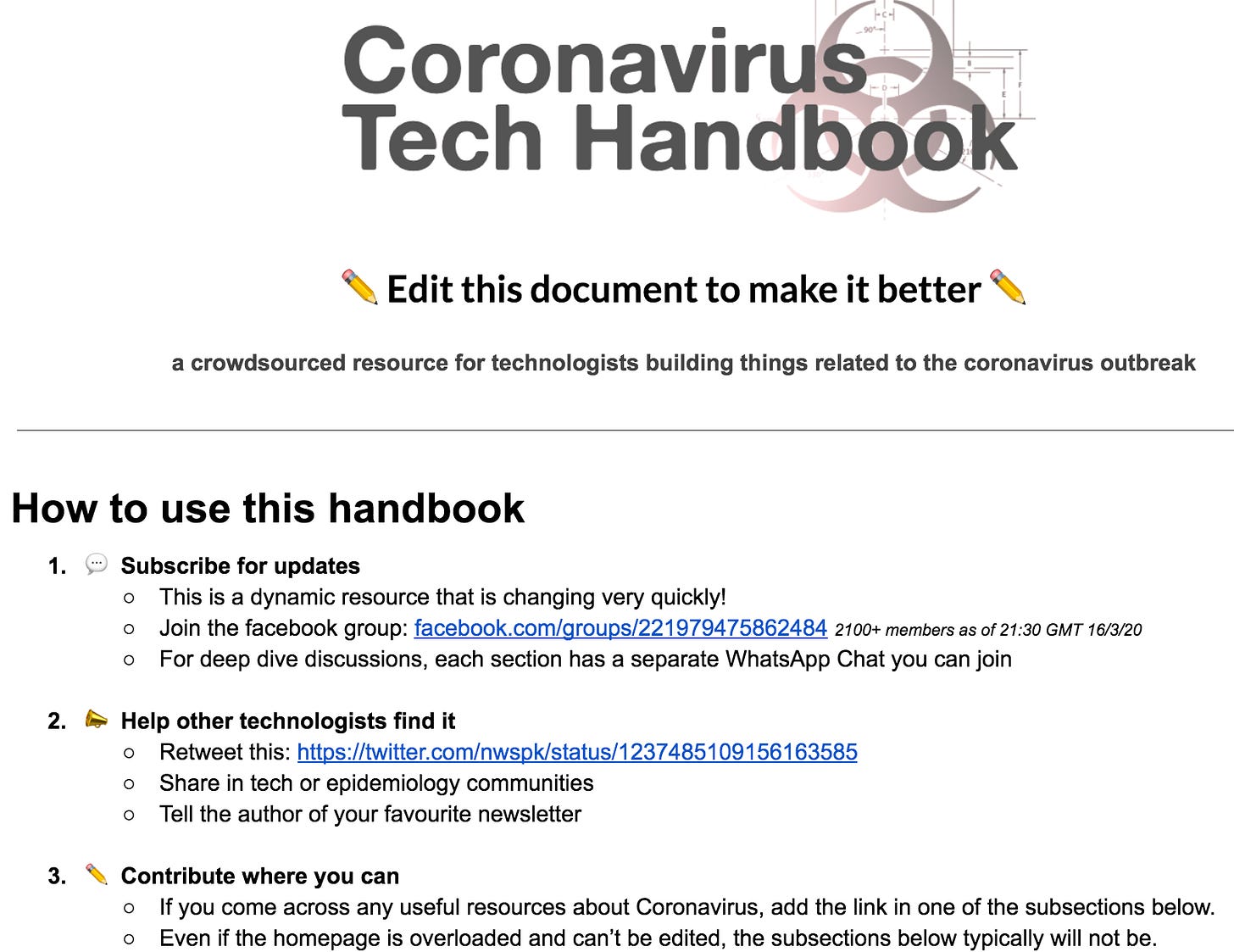 These aren't new behaviours. The adoption of all these new digital tools and products has been greatly accelerated because of the coronavirus. 
Amidst all the hardship we are experiencing, it's fascinating to see how almost everything we are doing is shifting from physical to digital. No matter your industry or profession, it's critical that we are all aware of this moving forward.
—
There is a rumour going around that footballer Cristiano Ronaldo has bought a private island to self-isolate with his family until the Coronavirus blows over. I don't know if it's true, but I would probably do the same thing if I could. It shows how seriously he is taking the coronavirus and more importantly, it shows the lengths that someone is willing to go to keep their family and others safe. 
As I was looking on skyscanner earlier today to check the prices of flights from London to New Zealand to see my parents, I thought the same thing. But in the meantime, my London flat will have to serve as a private island in this time of self-isolation.
Hope you are all staying healthy and safe wherever you are, in your own private islands.
---
I'm always looking to meet and work with like-minded people from around the world. You can find me on Twitter and Linkedin — come say hi!